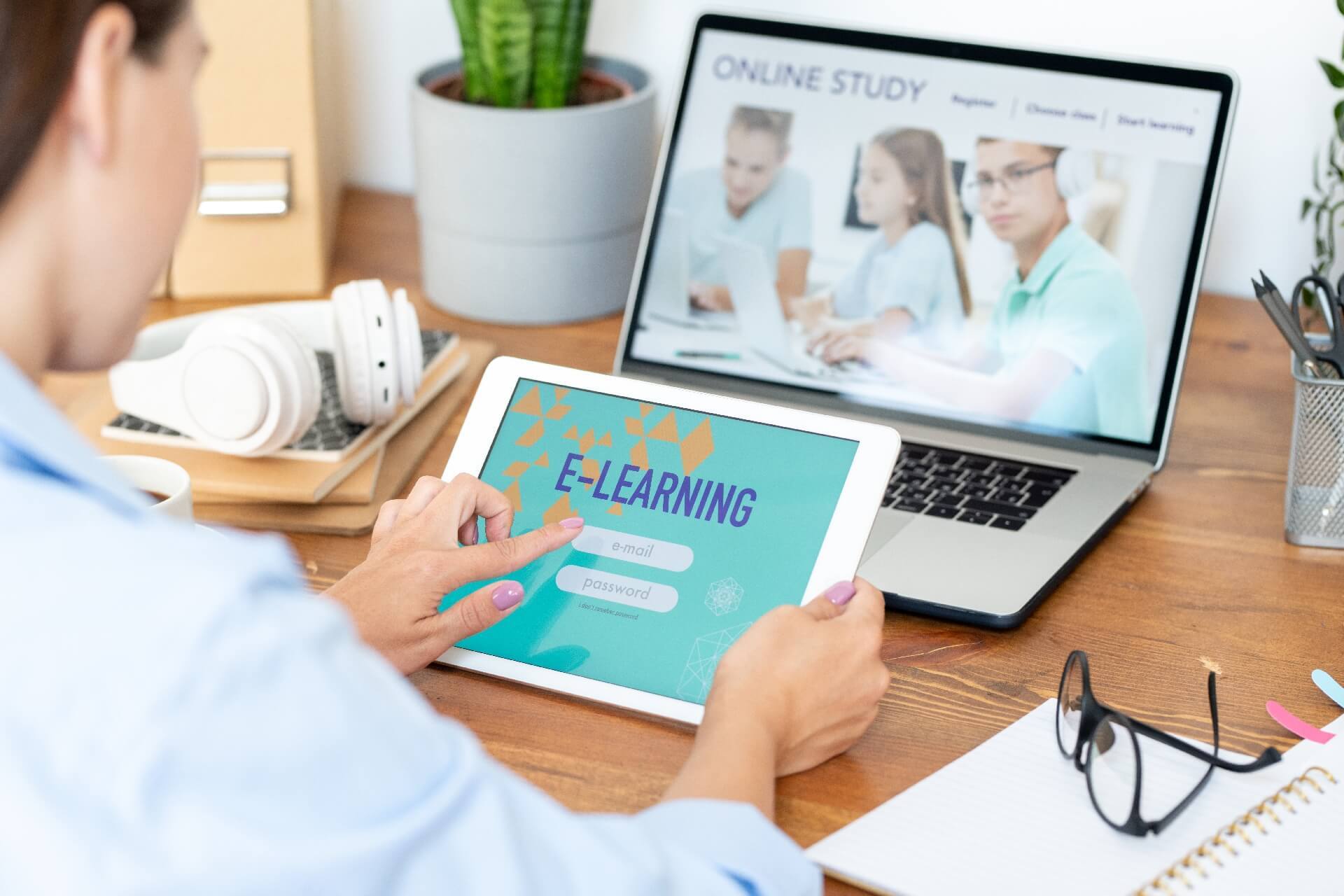 eLearning terms to build online training platform
Our eLearning experts build custom distance learning solutions for schools, universities, professional education, and corporate training since 2012. Check how we explain online learning and training industry terminology.
Assessment Software
Assessment Software is designed to systematically evaluate a learner's skill or knowledge level to facilitate the process of eLearning.
Asynchronous Learning
Asynchronous learning is a learner-centric way of delivering training, allowing study anytime and anywhere. Learners can receive and work on the same material at their own pace and on their own schedule.
Authoring Tool
A software that can be used by non-programmers to integrate an array of media formats and create elearning that is engaging and interactive. Authoring Tools can use SCORM or xAPI standards.
Blended Learning
Blended learning is the combination of traditional, face-to-face learning methods with technology-based online learning methods. It`s using the elements of self-paced learning with face-to-face classroom interaction. Also known as hybrid education.
Courseware
A tern used to describe a software that delivers instructional or educational course materials via computer or as a web-based application.
Distance Learning
Also known as Distance Education, occurs when student and teacher/instructor are in different locations. This type of learning can be delivered in both synchronous ( when they are connected at same time) and asynchronous environment.
E-learning
eLearning, or electronic learning, is the delivery of learning and training that occurs entirely on the web. It is applicable in both corporate and education environments through its ability to record and analyze rich data about user activity, engagement and competence through the xAPI.
Gamification
Gamification is the process of applying game mechanics like competing with others or keeping score to non-gaming situations. It increases excitement, boost learner motivation and achievement during online learning. In eLearning, this can include the use of point scoring, trophies and badges, various 'levels' and leaderboards.
ILT
ILT- Instructor Led Training. Typically refers to providing instructions in a classroom environment where the instructor teaches a class to a room of students either in an in-person or webinar conference setting.
LCMS (Learning Content Management System)
A software application focused on creating online learning content and course material. The main difference between an LMS and an LCMS is the target user. An LMS focuses on learners, while an LCMS is primarily used by content creators. LCMS enables an organization to share learning objects across the enterprise, which saves money, promotes consistent learning, and helps to amortize the cost of eLearning.
LMS (Learning Management System)
LMS is a software application or web-based technology that manages the administration, documentation, tracking, reporting and delivery of training programs and professional development as well as communication with students.
Learning Experience Platform (LXP)
A Learning Experience Platform (LXP) is a cloud-based learning solution that focuses on delivering a personalized user experience. It's any course, program, interaction or activity in which learning takes place, having key attributes as a slick UI, easy search functionalities and content recommendations based on user preferences and behaviour.
Microlearning
Microlearning is a way of delivering content where learning is split into lots of small chunks or units which usually take between 2-5 minutes, so you can learn a bit at a time. Studies have shown that people are more likely to remember small doses of content which are better absorbed than longer lectures.
mLearning (Mobile Learning)
It's an online learning that can be accessed from portable devices. The main idea is to let students study whenever they are and whatever device they use. It basically means that you can learn on the go!
SCORM (Sharable Content Object Reference Model)
Sharable Content Object Reference Model is the current standard in eLearning content. Basically, if your content complies with SCORM, then it should be able to run on most LMSs. SCORM defines how online learning content speaks to, and tracks results back to, an LMS.
Self-Paced Learning
It's a type of an asynchronous learning directed by a student, not an instructor. Learners are able to access and use education and training materials at a time that suits their schedules and preferences.
Social Learning
A type of learning enhanced by exchanging information via social networks (e.g. discussion boards or chats). Basically it's when you learn through other people, by discussing their learning together, collaborate, converse, provide input, create content and share it through any form of communication.
Synchronous Learning
A type of online learning that requires both a teacher and a student to be online at the same time and interaction occurs without a time delay (real-time). Communication happens through chatting and video conferencing. Live webinars and virtual classrooms are both great examples.
WBT (Web-based training)
Web-based training refers to all types of digital instruction in which the learning material is delivered via the Internet. Content may be hosted within a web-based application (such as an LMS), or retrieved from external sources.
xAPI
The successor to SCORM focused on tracking and reporting almost any activity of learning experiences (online and offline), including learner progress, reading a webpage, attending an event or team-based learning, allowing thereby communication between learning content and learning systems.